Making LED lighting simple. 
Syndeo delivers a safe and simple, plug and play LED lighting system for professionals and DIY-ers alike. 
– Multi-port Plug & Play
– Revolutionary Wiresafe Technology
– Easy to Use & Control
Revolutionary Wiresafe Technology
The Syndeo Driver offers a new level of safety in the plug & play low voltage lighting industry. The revolutionary Wiresafe technology uses an active current monitoring system to protect all ports from overloading, short circuits and electrical surges, ensuring lighting systems stay as safe as possible. Helps to assist BS7671 Regulation.
The new standard for plug & play drivers
Simplicity, security and certainty. The features offered by the Syndeo driver make it an all-round, professional, and supremely safe solution. 
Active Current Monitoring
No fuse, no fuss. The active current monitoring system built into all Syndeo drivers ensures that in the event of a current overload, short circuit or electrical surge the driver will cut off power and remain off until the fault is corrected.

Wiresafe Technology
This technology monitors the current being delivered to the ports and automatically cuts off power if the port exceeds 2.75A. This feature included in all Syndeo drivers offers a level of protection that's revolutionary to the driver market.
Multi-Port Protection
 Syndeo drivers include connection ports for up to 6 outputs of LED lights  and a connection for a control accessory. Each port is protected by Wiresafe technology and will cut off power if overload, short circuit or electrical surges occur.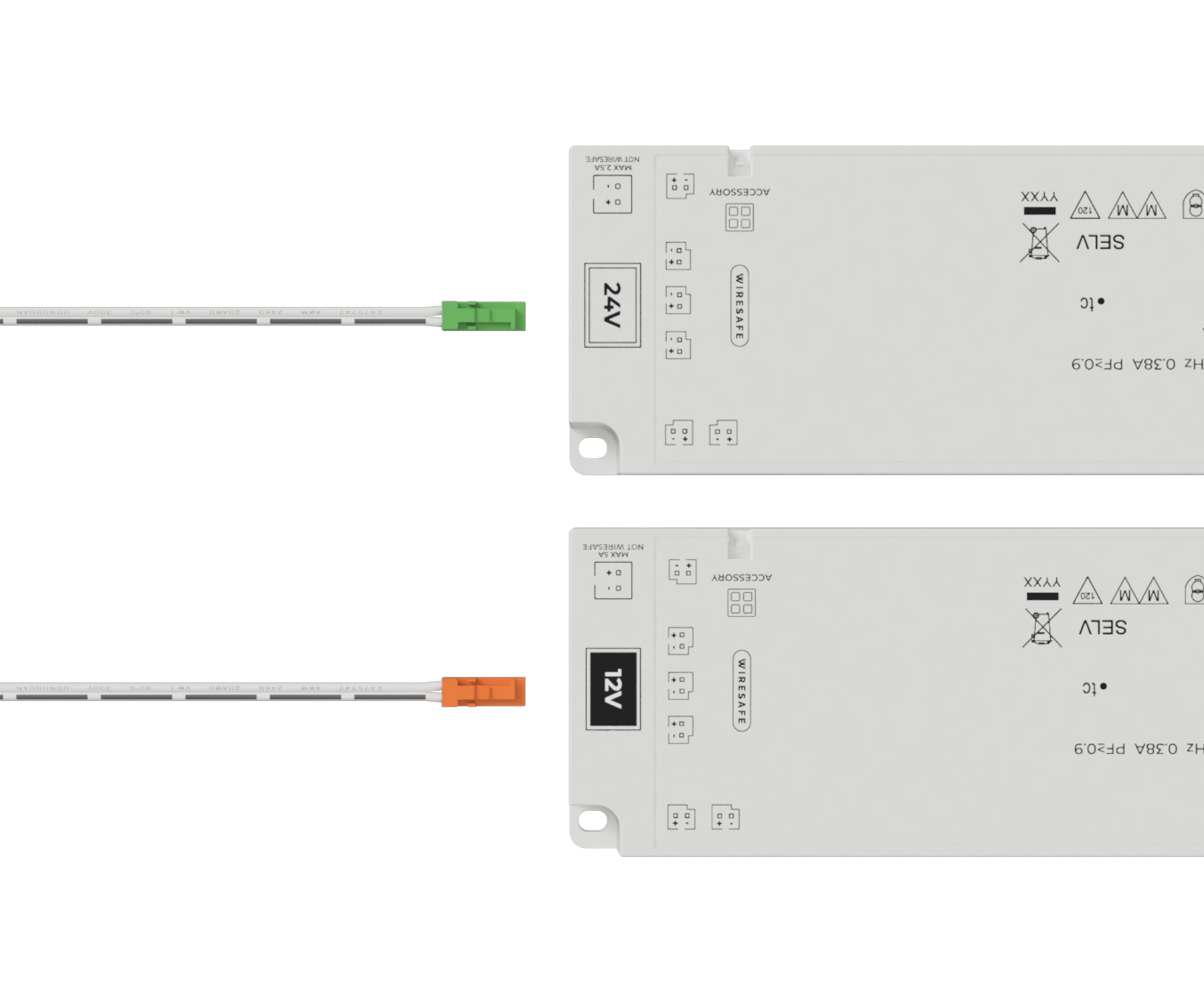 Professional Integration
Innovative slim design with professional level safety. The Syndeo driver comes in various power outputs to suit requirements and also features a colour change design, making differentiation between 12V and 24V systems a breeze. Syndeo connectors are also designed to only fit into the respective ports making it impossible to connect a 24V tape into a 12V driver.
Plug & Play Simplicity
Syndeo by Tagra is a complete plug and play solution ideal for incorporating lighting into various different sectors. The system offers a level of safety and simplicity that means there is less need for electrical qualifications during installation, saving you time and money during your project.